The Void is a home to those
who see through its veil.
Search beyond the objective environment towards subjective experience.
Deconstructed billboards are
reconstructed though perspective and movement.
The driving conceptual design comes from the influence of perspective on form and the relationships humans have with the influence of their objective environment. This is achieved through manipulating the object (billboard) according to a human perspective, thus producing an objective environment that isolates spatial experience from human perception of conscious, subconscious, environmental, or societal influences.
CONCEPT
The project is centralized around its
own perception and its reliance on the
users' perspective; an understanding of
the project as a whole, not simply as
chaos, is achieved through the form of
the project only becoming completely
visible from a singular perspective. The
urban landscape plays a key role in
disguising the form of the project within
a visually similar context, allowing the
perspective-dependent form to only
be visible to those who are looking
more inquisitively.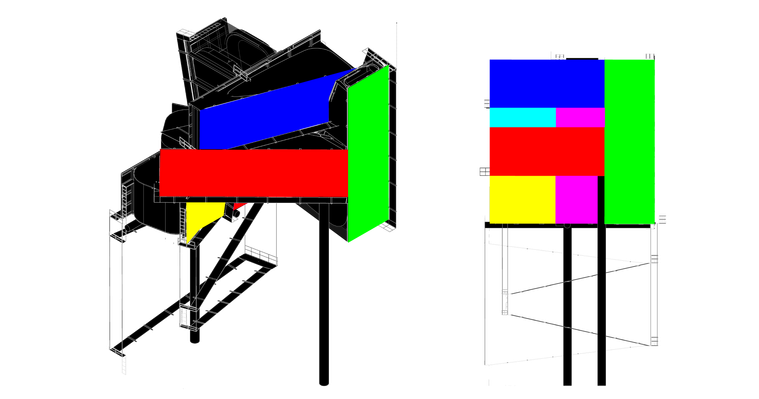 OBJECT ORIENTED ONTOLOGY (OOO)
The use of Object-Oriented Ontology
has impacted my manipulation and treatment of the site and objects required
in the design of the project: the billboard is being treated with equal importance and significance as the human interaction with the building, essentially de-prioritizing the user of the building and amplifying the billboard as the deciding design feature.
SPACIAL ORGANIZATION
The project uses the quality of the object
(billboard) itself as the foundational organizational and spatial influence, meaning that the manner in which the billboards are manipulated dictates the interior space and organization of the project.
ECOLOGICAL IMPACT
The ecological impact of my design
will attempt at being net-zero or net
positive, not requiring any gridded
power or water, while also producing
food for the client; the incorporation
of a greenhouse, water collection, and
photovoltaics will allow this to occur.